Vacant Home Staging
What is Vacant Home Staging?
When a house is on the market without current inhabitants, it's considered to be vacant. Vacant home staging is the process of renting furniture and allowing Atlanta vacant home staging experts to come in and arrange it in a way that appeals to buyers.
There's also partial vacant home staging – when sellers have moved out of a home and left things behind. In these cases, the furniture in the home is supplemented with rental pieces to create an enticing sale environment.
Why should I invest in Vacant Home Staging in Atlanta?
In today's market, buyers do their research online before driving to see a home, especially in Atlanta. If you want to sell your home quickly, the pictures you take and post have to answer buyers' questions.
Atlanta vacant home staging services are truly an investment. We bring in all the furniture needed to show buyers of the size and functionality of the rooms in your home, which leads to more showings and a faster sale. It's a fact!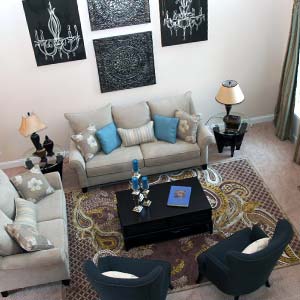 Why choose Under the Willow Interiors for your Atlanta Vacant Home Staging?
If you've moved out of your house and want to sell it quickly, hire Under the Willow Interiors Atlanta Vacant Home Staging experts.
We merchandise your home with transitional-style furniture – clean lines create a style and look that appeals to the masses, and complement the large pieces with accessories and artwork for nearly every color palette.
Our furniture is rented to you from a 3,600 square foot warehouse – filled with furnishings to complement the price point of any property, making the potential buyers feel at home in your previous place.